Core Cutting in Abu Dhabi &
Core Cutting in Dubai
need core cutting services in Abu Dhabi and Dubai? Call Us
Core Cutting in Abu Dhabi/Dubai
Experience the best quality concrete and core cutting services in Abu Dhabi. Al Raihan Rental has a fleet of imported machinery, completely at your disposal and ready to rent at any time. Whether you need concrete core cutting or concrete cutting services, our team of highly-trained contractors will deliver exceptional results for all of your projects. With competitive prices in Abu Dhabi, Dubai, and throughout the UAE, you can trust us to get the job done right. Don't settle for less – choose Al Raihan Rental for all your concrete or wall core cutting and demolition needs!
1. Core Cutting In Abu Dhabi/ Core Cutting in Dubai
Al Raihan Rental is based in Abu Dhabi and has many years of experience in cutting-edge concrete and wall core demolition services. We are committed to providing innovative core cutting services that meet the highest construction industry standards. Our experienced and professional team of core cutting specialists work tirelessly with imported, high-quality machinery to provide you with top-quality, precision results every single time. We are proven experts in core cutting and concrete wall sawing, and our vision is to tackle any construction job or demolition project with unmatched expertise. Trust us to get the job done safely, efficiently, and at the highest possible standard. Our vision is to leverage our experience and knowledge in core and concrete cutting services to successfully and precisely complete any job, no matter how complex. Our top-of-the-line, core cutting services are characterized by-
Advanced imported machinery

Project customization

Highly trained professionals

Customized solutions

Exceptional results
We take great pride in providing top-of-the-line construction equipment rental services to our clients. Cutting equipment and other machinery is meticulously maintained and regularly serviced to ensure maximum reliability and minimize any inconvenience to our customers. Select from a wide variety of construction equipment and comprehensive rental services for all your concrete and core-cutting project needs. Whatever specialized machinery you require, you can find it all at Al Raihan Rental. Our equipment is not only the latest and most advanced core cutting machinery available, but it is regularly serviced, well-maintained, and up-to-date to ensure optimal performance, safety, and reliability. We offer a wide range of construction equipment for concrete and core-cutting services including.
Generators

Steel bar bending machines

Electric chainsaws

Concrete grinding machines

Road rollers

Water pumps

Welding machines

Marble polish machines
We supply comprehensive repair services for all types of core cutting and concrete construction equipment. Our 10+ team of highly trained professionals each bring years of expertise and experience. We understand the importance of keeping your construction equipment operating in top condition. That's why we offer a full range of equipment repair services, designed to meet all your repair needs. Our team of experienced technicians are equipped with the knowledge and expertise to handle any kind of construction equipment repair. By providing fast and reliable repair services, we can fix your equipment as soon as possible and minimize costly downtime. We work tirelessly to ensure that your equipment is back up and running with a rapid turnaround so you can continue your project as soon as possible. We can handle any kind of construction equipment repair with the utmost professionalism and attention to detail, and provide services that include.
Serious damage diagnosis

Routine maintenance

Fast turnaround times

Minimized downtime

Optimized performance

Extended equipment lifespan
Additional Core Cutting Services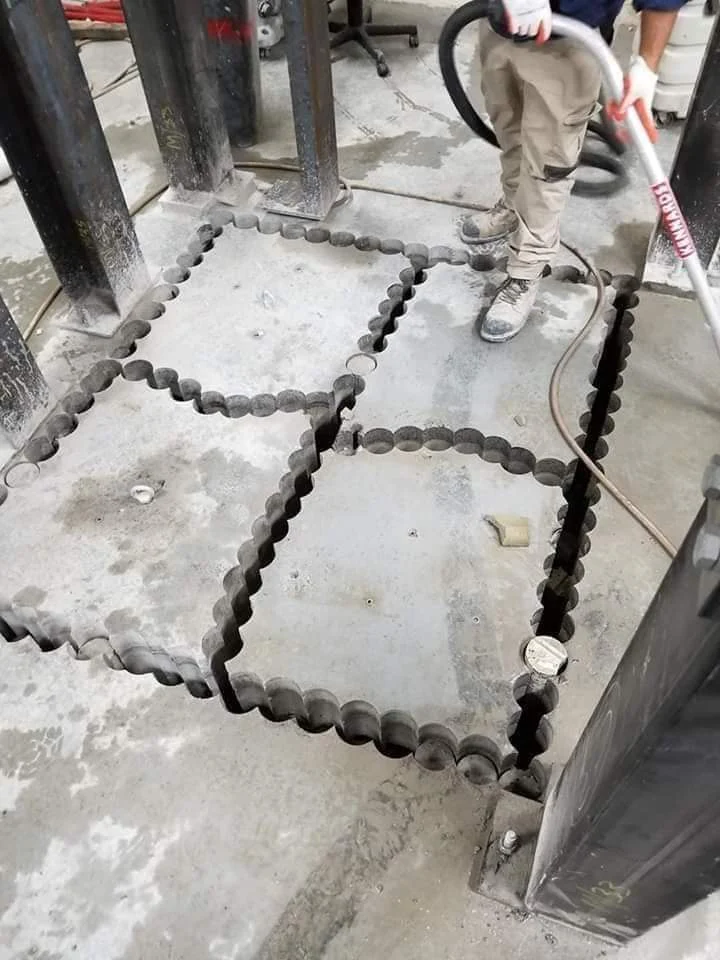 Why Choose Al Raihan Rental
For Core Cutting Services
With numerous construction and demolition companies available to choose from, there are several reasons why you should partner with the team at Al Raihan Rental. Along with modern, state-of-the-art equipment and highly experienced concrete and core cutting specialists, we provide our clients with several benefits.
100% customer satisfaction rating
Best service in the UAE
Exceptional results, every time
Advanced ultra-modern machinery
Highly trained professional contractors
We take pride in providing high-quality services and deliver exceptional results on all concrete construction and demolition projects with minimal downtime. Our success is made possible by our highly-skilled team members and advanced-quality cutting-edge machinery. In addition to demolition services and equipment rental, we also offer machinery repair to help maintain performance and extend the life of your core cutting equipment.
AlRaihan Rental is the go-to choice for core cutting services in Abu Dhabi! Their team's precision and efficiency are unparalleled, making every project a breeze. Highly recommend for any construction needs.
Alraihan Rental's core cutting service in Abu Dhabi was exceptional! They efficiently cut through concrete walls, providing precise and clean results. Highly recommended!
AlRaihan Rental's core cutting services exceeded our expectations! Their skilled technicians and modern equipment delivered flawless results. Truly impressed and satisfied with their work.
Exceptional service from AlRaihan Rental! Their core cutting expertise saved us time and effort on our construction site. Professional and reliable - a top-notch option in Abu Dhabi.
Highly satisfied with AlRaihan Rental's demolition service! They delivered as promised, and their courteous team made the entire process stress-free. Best demolition contractors in Abu Dhabi, no doubt
They did excellent job on my site...
We highly recommend Alraihan Rental for roof cutting services in Abu Dhabi. Their skilled technicians efficiently executed precise cuts, ensuring structural integrity and a seamless finish. Reliable and top-quality service
انصح به ممتاز جدا جدا
Excellent Machinery, High-quality Equipment, Perfect dealing, and finally and mainly uncomputable prices
Watch Our Core Cutting Expertise in Action!
What is Core Cutting?
Core cutting uses specialized machinery to drill and cut through concrete and masonry. It is a crucial component in many construction or demolition projects. Making precise clean cuts requires trained and experienced contractors and concrete-cutting specialists to safely operate machinery and perform core-cutting services on building projects.
Best Core Cutting Contractors in ABU Dhabi /Dubai
Al Raihan Rental is a reputable company specializing in core cutting services in Dubai. As the leading core cutting contractors in Abu Dhabi And core cutting contractors in Dubai, we deliver exceptional quality and precision in every project. Trust us to meet your core cutting needs efficiently and effectively.
Our Core Cutting Services  in ABU Dhabi/UAE
At Al Raihan Rental we provide the tools, support, and manpower needed to complete all of your core cutting in Abu Dhabi. We use the latest imported machinery, and with a trained team of specialized core cutters ready to help, we make your demolition or renovation projects stress-free. We manage core cutting projects in Dubai, Abu Dhabi, and across the UAE. 
1. Diamond Core Drilling/Cutting
State-of-the-art, diamond-tipped drills are used to create straight edges and precision cuts in concrete and hard masonry materials. Drilling services bore deep holes through concrete which can be used to aid electrical or plumbing installations. 
A wall core cutting solution for concrete, block, or stone that creates a precision cut on vertical or sloped services. Also knowns as track sawing the blade is mounted on a track machine for precise placement and operation. We Provides Wall Sawing concrete wall saw services in Dubai, Abu Dhabi and UAE.
Horizontal core cutting is designed to cut through different floor concrete thicknesses. Powerful saws and modern construction machinery cut through reinforced or mass concrete for building and demolition purposes.
Sawing and drilling and not the only concrete cutting methods available in UAE. Many core cutting projects in Abu Dhabi and Dubai use a thin metal wire or cable to saw through concrete using abrasion.
5. Concrete Cutting
Concrete core cutting services are available for any type of project. Building or demolition jobs can be handled from end to end by our fully trained and highly experienced concrete core cutting team.
Concrete scanning uses advanced technology to detect concrete thickness and locate hidden objects that are embedded or buried. Penetrate deep below the surface and locate pipes, metal supports, and other items. We Provide concrete scanning in Dubai, concrete scanning in Abu Dhabi and concrete scanning in UAE.
For home construction and commercial renovation projects, openings need to be cut cleanly and to exact measurements. Use our imported core cutting machinery to create a perfect cut every single time. We Provide Door Cutting in Dubai, Door Cutting in Abu Dhabi and Door Cutting in UAE.
8. Slab Cutting
Power through thick concrete slabs with the help of Al Raihan contractors. Slice through flooring and other horizontal surfaces quickly and efficiently with high-powered cutting equipment.  We Provide Slab Cutting in Dubai,  Slab Cutting in Abu Dhabi and  Slab Cutting in UAE.
Have a roof cutting project? Our specialized core cutting services in UAE can help with any kind of roof-cutting requirements. Cut roof areas easily and safely with the help of our core cutting specialists. We Provide Roof Cutting in Dubai, Roof Cutting in Abu Dhabi and Roof Cutting in UAE.
10. RADAR Imaging
Advanced core cutting technology and computer imaging combine to bring visibility to your projects. See beneath the surface and identify objects hidden deep within structures or under floors. We Provide Radar Imaging Services in Dubai,  Abu Dhabi and UAE.
Core cutting is not the only way to shape and remove sections of concrete. Concrete grinding uses a variety of techniques to grind and polish concrete surfaces creating a smooth or shaped  finish. We Provide concrete Grinding in Dubai, concrete Grinding  in Abu Dhabi and concrete Grinding in UAE.
In addition to providing comprehensive concrete and core cutting services in Dubai and Abu Dhabi, Al Raihan Rental assists with demolition projects across the UAE. Demolish, dismantle, and remove structures safely and efficiently. 
Core cutting services in Dubai
your premier destination for top-notch core cutting services in Dubai. With our cutting-edge equipment and skilled professionals, we offer precise and efficient solutions for all your concrete cutting needs. Whether it's drilling holes for utility installations or creating openings for doors and windows, our expert team ensures impeccable results every time. Trust Al Raihan Rental to deliver exceptional core cutting services, exceeding your expectations in Dubai.
Best Core cutting contractors in Dubai and Abu Dhabi
Al-Raihan Rental is the premier core cutting contractor in Abu Dhabi, delivering unparalleled services with utmost precision and efficiency. With a highly skilled team of experts and state-of-the-art equipment, we consistently surpass client expectations and ensure flawless results. Trust us for all your core cutting needs and experience the finest service in Dubai and Abu Dhabi.
Best Core cutting company in Dubai
Al-Raihan Rental is the Best Core Cutting company in Dubai and Abu Dhabi, offering unparalleled expertise and cutting-edge technology. With a strong commitment to delivering exceptional results, we pride ourselves on being the best in the industry.
Core cutting in Dubai/ Core cutting in Abu Dhabi
We Provide Core cutting in Dubai. Also We provide Concrete cutting in Dubai and Concrete cutting in Abu Dhabi. Hire us For All you Core cutting and concrete cutting needs in Dubai, Abu Dhabi, and UAE.
Why Pick Our Core Cutting Services in ABU Dhabi/Dubai?
There are several reasons which should compel you to pick our core cutting services in Dubai, but the important ones include the following;
1. Cost-Effectiveness
We use highly sophisticated equipment to lower our costs, and the benefit is transferred to the consumers, which makes our services highly cost-effective.
2. State-of-the-art Machinery
Regardless of how skilled or trained the professionals are, they cannot carry out the job properly without appropriate equipment. We provide our workers with sophisticated and advanced equipment to deliver quality services quickly.
3. Deadlines
Since all of our services are provided by in-house staff, and we do not outsource machinery, our projects have little to no delays.
4. 100% Customer Satisfaction Rate
We have been in the industry for years and have never had a client unsatisfied with our services. It is our mission to maintain this remarkable track record and each member of our team strives for that. 
Benefits of Our Core Cutting Services
Partnering with the team at Al Raihan for your core cutting projects brings a number of benefits to construction or demolition tasks.
1. Experience
With almost a decade of experience in core cutting in Dubai our team of professionally trained experts can help with any kind of project, no matter the size or scope. Every one of our carefully selected team members brings their own unique skills and experience in concrete cutting.
2. Precision
With the very latest imported machinery, we incorporate the latest core cutting techniques and innovations to supply you with the highest possible standard of core cutting attainable.
3. Time-saving
Reduce downtime and minimize costly disruptions or delays by partnering with an expert team. Our core cutting specialists will perform tasks on your schedule and reduce project delays.
4. Cost-effective
With core cutting services performed to the highest industry standards, costs can be kept to a minimum. No need to buy specialized equipment or train contractors. Al Raihan Rental supplies everything needed. 
5. Safety
Our expert core cutting specialists are trained in the use and operation of concrete cutting machinery and are highly experienced operators. This reduces the risk of accidents or on the job injuries.
How to Choose the Right Core Cutting Contractors in Dubai
Selecting the right core cutting service provider in Dubai can make a huge difference to the speed, quality, and standard of your construction or demolition project. Therefore, it makes sense to take some things into account before choosing the company that you will use.
1. Equipment
Look for a core cutting service provider that uses good quality, well-maintained equipment. At Al Raihan Rental we import the latest and most innovative machinery available in the industry.
2. Trained contractors
Any contractors that will be performing core cutting work on your behalf should be fully trained on the equipment or machinery they are using and have industry experience.
3. Affordability
Most building projects operate on a budget so this will need to be considered when selecting a core cutting service provider. However, make sure that there are no hidden costs, fees, or charges that will be added later.
4. Reputation
Check the reputation of your core cutting service provider and read customer reviews. At Al Raihan we have partnered on multiple projects in the UAE and maintain a 100% customer satisfaction score.
Factors that affect the cost of core-cutting services
Core cutting services in abu dhabi and in cities like Dubai are not a one size fits all proposition. There are many factors to consider that may affect the cost of your project. 
1. Material Type
Depending on the type of material being cut, some projects may take longer than others. Harder materials like reinforced concrete can be more difficult to cut or may require special equipment which can drive the price up. 
2. Size and Complexity
The size and complexity of the core cutting job will have a direct impact on the cost of service. Jobs that are complex or that require multiple contractors will be more expensive than smaller, more simple tasks. 
3. Location
Where your construction site or job site is located can also affect the price. Al Raihan Rental performs core cutting services all over the UAE. Though based in Abu Dhabi, we have a team of contractors who can be deployed at any time. 
Common Mistakes to Avoid During Core Cutting Services
Avoid these mistakes and prevent your core cutting project from running into problems.
Do not be tempted to hire untrained staff. It will likely result in problems and cost you money in the long run.
Make sure to clean and prepare the job site properly so that people and equipment can access the site freely and without restrictions.
Using the wrong equipment can result in poor quality work, excessive downtime, and safety issues, all of which can cost a lot of money.
Not following proper safety measures is a recipe for disaster. Core cutting is a dangerous occupation and safety protocols must always be followed.
Concrete cutting specialists
we take pride in being the concrete cutting specialists in Abu Dhabi. With years of experience and a dedicated team of experts, we possess the knowledge and skills to handle any concrete cutting project with precision and efficiency. As the leading concrete cutting specialists in Abu Dhabi, we understand the complexities and challenges involved in the process. Our state-of-the-art equipment and cutting-edge techniques enable us to deliver superior results, ensuring the highest level of client satisfaction.
FAQS - Core Cutting Services in Dubai
Q: What type of materials can be cut with core cutting?
A: Core cutting can be highly versatile and materials that can be cut include concrete, concrete slab, and stone along with other materials.
Q: Is core cutting safe?
A: Core cutting is safe when performed by a trained and experienced service professional using the right equipment and proper techniques. Our team are experts in the industry and equipped with modern and specialized equipment to ensure safe and efficient cutting.
Q: How much does core cutting cost?
A: The cost of core cutting services varies depending on several factors. The type of material being cut, how complex the job is, and the accessibility and location of the cutting site. 
Q: Do you offer demolition services?
A: We offer demolition services in addition to our core cutting services. Our team is highly trained and equipped to handle various demolition jobs safely and efficiently.
Q: Do you provide concrete scanning services?
A: Concrete scanning services identify the location of utilities, rebar, post-tension cables, and other objects that are hidden within concrete structures. This helps to execute cutting and demolition jobs with precision and efficiency.
Q: What is core cutting, and why would I need this service in Abu Dhabi?
A: Core cutting is precise cutting in hard materials. In Abu Dhabi, it's essential for construction projects, creating openings for pipes, cables, etc.
 Q: How does Alraihan Rental ensure safe and efficient core cutting in Abu Dhabi?
A: Our skilled team uses advanced diamond-tipped machines, follows safety guidelines, and prioritizes efficiency.
Q: Can Alraihan Rental handle large-scale core cutting projects in Abu Dhabi?
A: Absolutely! Our experienced team and extensive equipment can handle projects of any size.
Don't Know What To Start With?
Get A Solutions For All Core Cutting Needs
Email: sales@alraihanrental.com